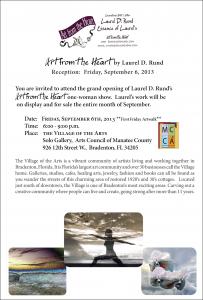 Local Bradenton artist, Laurel D. Rund, will be exhibiting her inspirational "Art from the Heart" for display and sale for the entire month of September. Laurel's work will be featured at the Village of the Arts, Solo Gallery, Arts Council Manatee County - 926 12th Street West, Bradenton, Fl. 34205.

The grand opening will be on the First Friday Artwalk, September 6th, from 6-9 pm.

The Village of the Arts is a vibrant community of artists living and working together in Bradenton. It is Florida's largest art community, and over 30 businesses call the Village home. Galleries, studios, healing arts, jewelry, fashion and books can all be found as you wander the streets of this charming area of restored 1920's and 30's cottages.